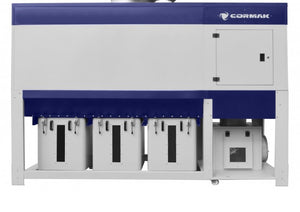 Cormak DCV11300TC Dust Extractor
CORMAK DCV series extractors are designed for filtering chips and fine sawdust in carpentry and furniture industries. Fully bodied, soundproofed, with a system of warm air recovery.
Pros
Large, durable vibration-free construction allowing for quiet operation
New series of TC extractors is equipped with full upper body absorbing noise and vibration produced during work and warm air recovery
Integrity of the entire suction system, ensuring the best internal air quality, and no warmth loss during heating periods
Powerful and quiet fan yielding great vacuum force
Possibility of creating a ceiling system and connecting a number of machines working simultaneously with DCV extractors
Failure-free filter shake off system in an automatic or manual cycle
Extractors with wheels for easy repositioning
Quick change of waste containers, designed in a way as to achieve 99.99% integrity of the system, equipped with wheels
Control cabinet for on/off switching
It is prohibited to use this extractor in an explosive atmosphere
This extractor is not adjusted to work with wet material (e.g., wet sawdust)
Technical Specification

Motor: 11kW
Speed: 300 rpm
Number of filters: 64
Inlet diameter: 350mm
Airflow: 11300 M3/H
Dimensions: 1190x3160x2320mm
Weight: 710kg
Please allow 7-12 days delivery on Cormak Dust extractors, we will work with you to a lead time that is suitable for your project requirements.