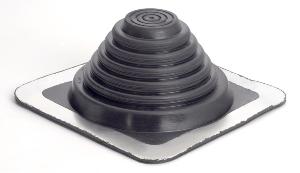 Standard Master Flash in Black.
Made from EPDM or Silicone.
Offers Maximum Resistance to Weathering
Fast One Piece construction allows for easy on-site installation
Listed with IAPMO certification 3121
Advanced OZONE resistance tested to 70 hrs @ 500 pphm
Tensile Set: 10 MPa (1450 psi)
Compression Set maximum: 25%
Intermittent +135°C (+275°F)
Continuous +100°C (+212°F)
To fit Spiral Duct from 305 to 724mm
The soft aluminium base is designed to form a seal on most panel configurations and roof pitches regardless of pipe location.
The Master Flashes flexible design meets virtually all roofing needs, the Sleeve flexibility accommodates vibration and pipe movement caused by expansion and contraction. The soft aluminium base easily conforms to roof panels. Master Flash was used to create a new engineering standard for profiled roofing by the International Association of Plumbing and Mechanical Officials (for the uniform plumbing code) and remains the only product listed. These products are also listed for use with Type B Vents. The addition of fire retarding agents milled directly into the rubber compound created a self extinguishing feature which enables it to be used with Type B vents.
Install Notes: