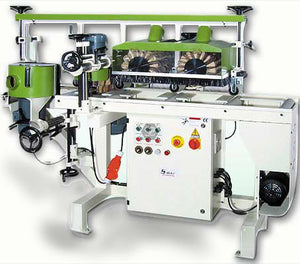 iTECH SL300 S5 Profile Sander & Denibber - Through Feed. The new SL300-5S can be used for sanding or denibbing rails, architraves, skirtings and straight profiles. Different abrasives, speed and pressures can be used for a wide variety of applications or materials.

Features :
Constantly variable conveyor speed.
Two top brushing heads with inverter drive variable speed.
Right side head can be tilted or moved in and out
Left side brush head which can traverse in and out
The main frame is fabricated from heavy steel plate and ribbed to minimize vibration and deflection.
Abrasive heads are designed for easy replacement.
technical specification
Model/Item No : SL-300-5S
Max. working width : 300mm
Max. working height : 100mm
Min. work-pieces length : 840mm
Min. work-pieces thickness : 9.5mm
Feed speed (Variable) : 2.8-8.2 M/min
Speed of sanding wheel : 400-1200rpm
Top brush head motor : 2 x 3/4hp (0.55KW)
Right brush head motor : 1x1/2hp(0.37kw)
Left brush head motor : 1x1/2hp(0.37kw)
Conveyor motor : 1/4 hp(0.18kw)
Universal brush head motor : 1/3 hp(0.25kw)
Machine Dimension (DxWxH) 184 x 123 x 155cm
Net weight : 340kgs
Gross weight : 470kgs